Navigating the Slow Season in Travel Booking: Facing Reality and Seizing Opportunities
Written By Ryan Sullivan
•
Sep 21, 2023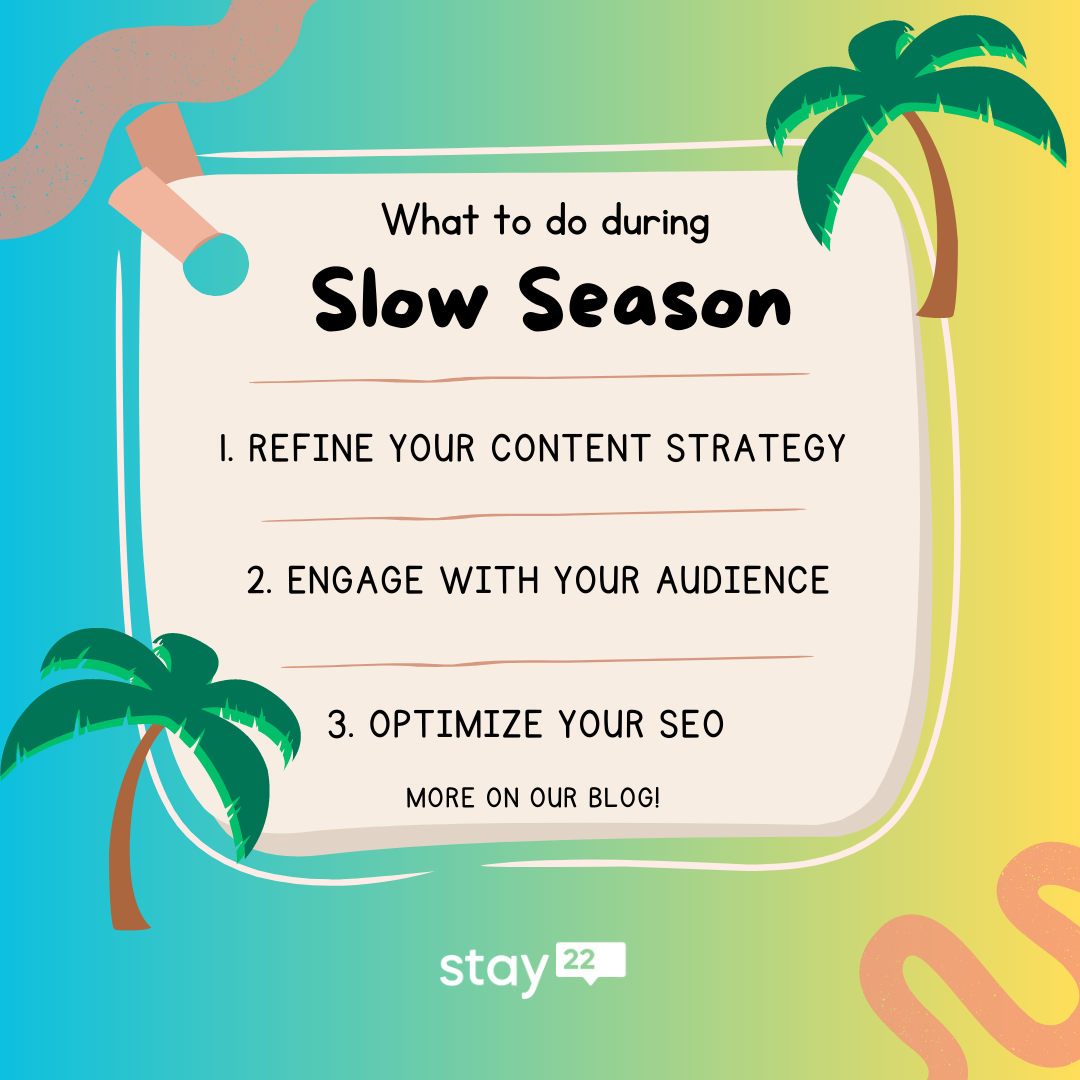 Navigating the Slow Season in Travel Booking: Facing Reality and Seizing Opportunities
Travel, like any other industry, experiences ebbs and flows. During the inevitable slow season, bookings decline, and activity seems to hibernate. However, just like winter gives way to spring, the slow season can be a time of preparation, innovation, and strategic planning for online travel publications. While recent data suggests a decline in travel bookings during this season, it doesn't have to signify a halt in progress or productivity. Let's explore the reality of the slow season and the opportunities it presents.
Peak Travel Months
Traditionally, July and August stand out as peak travel months for several reasons. These months align with summer breaks for many schools worldwide, providing families with an extended window of opportunity to plan vacations without disrupting their children's education. Additionally, the favorable weather conditions during this period, with warmer temperatures and longer daylight hours, make it an attractive time for outdoor activities and sightseeing. As a result, many individuals and families take advantage of this period to explore new destinations, making July and August bustling months in the travel industry.
Average Lead Time
Understanding lead time can provide insights into travel booking trends. Recent data shows a significant shift in travel planning with an average lead time of 33 days in 2022. This refers to the span from when travelers initiate the booking process to their actual departure date. The relatively short lead time reflects a trend influenced by dynamic conditions brought on by the global pandemic. Travelers have adapted to changing travel restrictions, health advisories, and personal comfort levels, placing a greater emphasis on flexibility. These evolving trends provide valuable insights into travelers' behaviors and preferences.
Average Length of Stay
In 2022, there was a noteworthy shift in travel behaviors, particularly regarding hotel stays. The average length of a hotel stay extended to 2.12 days, marking the highest duration since 2019. Several factors contribute to this increase, including increased willingness and eagerness to travel after periods of lockdown and restriction. Additionally, the ongoing trend of remote work has granted many people more flexibility in their schedules. The rise in average length of stay offers an optimistic outlook for the hospitality industry, signaling a strong recovery and resurgence in extended travel engagements.
Increase in Average Daily Rate (ADR)
2022 witnessed a significant surge in the average daily booking rate, with a peak of $290 in July. This represented an impressive 87% increase from its four-year low of $155 recorded in January 2021. The upswing reflects a resurgence in travel and tourism, fueled by pent-up demand and easing of restrictions after a period of global slowdown. The summer peak aligns with traditionally high travel demand during the July holiday season. This demonstrates the industry's resilience and adaptability, bouncing back from the impacts of the pandemic and continuing to provide exceptional experiences for travelers.
According to the report "Europe's Travel and Accommodation Sector in 44 Charts," it's important to note that the vast majority of people continue to book their travel online.
Rather than pacing back and forth trying to battle the forces of the annual low tide, it is recommended to take this time for reflection, maintenance, and optimization. So, how can online travel publications make the most out of the slow season? are five suggestions:
1. Refine Your Content Strategy: Use the slow season to reassess and refine your content strategy. Analyze what worked well during the busy season and what didn't. Explore new topics, formats, or channels to engage your audience. Consider creating a content calendar that outlines future themes, topics, and posting schedules.
2. Engage with Your Audience: Connect more deeply with your audience during the slow season. Ask for their feedback, create interactive content, and understand their evolving needs and preferences. Building a strong community during this time can ensure a loyal audience when travel demand picks up again.
3. Optimize SEO: Fine-tune your SEO strategy while booking activity slows. Update older posts with relevant keywords, improve your site's loading speed, and ensure your website is mobile-friendly. These optimizations can boost your visibility and improve your ranking when search volume increases.
4. Partner Up: Consider collaborations with other businesses or influencers in the industry. Co-host webinars, create guest blog posts, or engage in cross-promotions. Partnerships can expand your reach and provide fresh perspectives to your audience.
5. Invest in Development: Use the slower season to invest in your team and infrastructure. Provide training or team-building activities. A more skilled and cohesive team can improve productivity and morale, setting the stage for success when the travel industry rebounds. Additionally, consider investing in tech solutions like Let Me Allez by Stay22, which can help you save time and increase earnings when bookings start to bounce back.
Patience, planning, and persistence are key when navigating the slow season in travel booking. It is not a period to fear but rather an opportunity to embrace. With strategic planning, creativity, and a focus on audience engagement, online travel publications can not only survive the slower season but thrive. Use this time to build a stronger foundation for when travel booking picks up again, and you'll be well-positioned for success.