10 Metrics Every Travel Blogger Should Track in Google Analytics
Written By Ryan Sullivan
•
Sep 21, 2023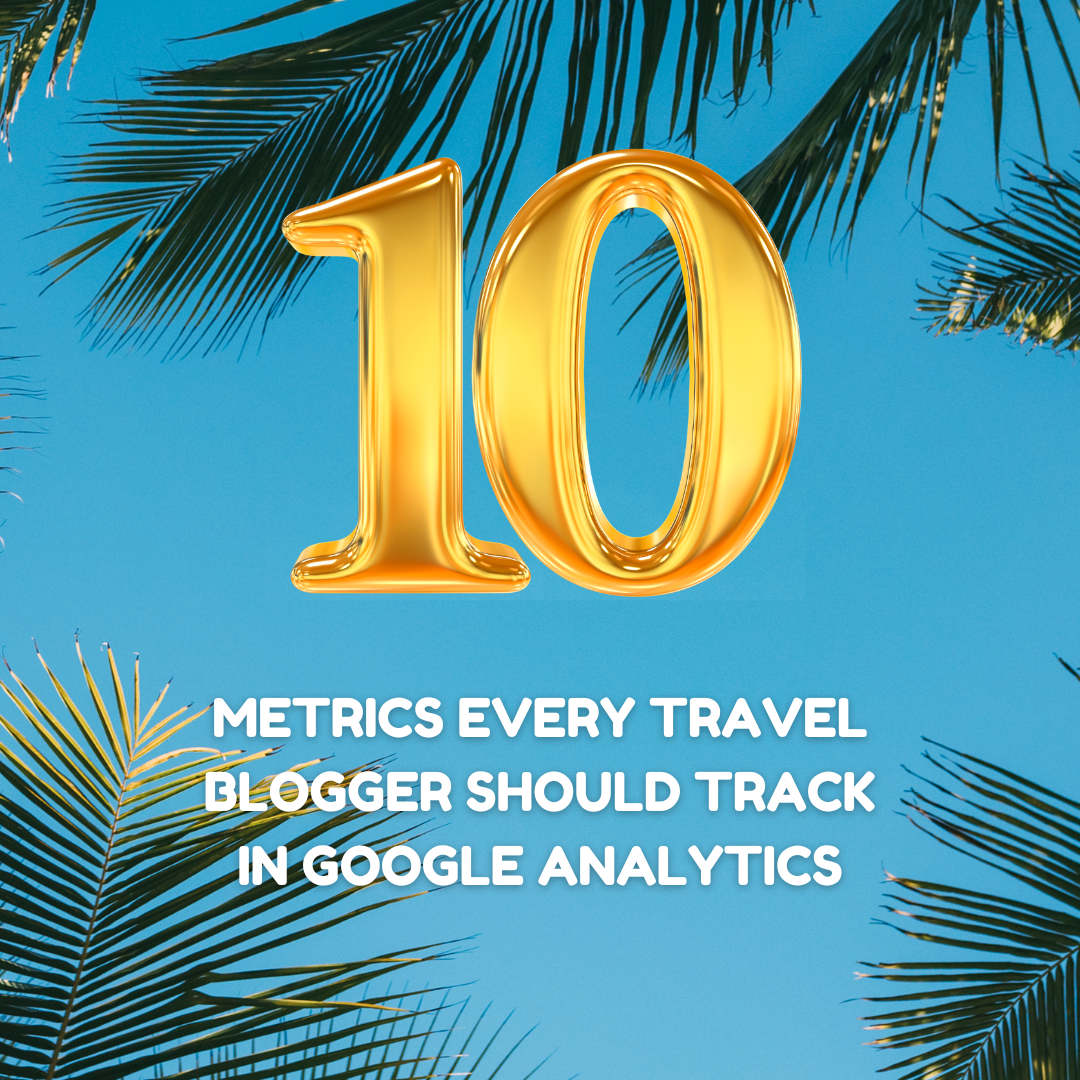 10 Metrics Every Travel Blogger Should Track in Google Analytics
As a blogger, understanding your audience and tracking the performance of your blog is vital for success. Google Analytics provides a powerful set of tools to help you gain insights into your website's performance and make data-driven decisions. Bloggers usually don't use Google Analytics as they should, most of the time they take a quick look at some basic metrics but they don't use GA at its full potential. Should they? What metrics to look at? Why do these metrics benefit my travel blog? This article will identify 10 metrics that all bloggers should keep in mind when creating content:
1. Pageviews
Pageviews are the number of times your blog posts or pages are viewed by your visitors. It's a basic metric but an important one because you will be able to identify your high-performing articles and then create others related to this one.
Let's take an example, imagine you have made a high-performing article related to your last trip in Brazil, you have 1000 page views. Your metrics indicate that people like content around Brazil, so your next article can be the nicest place to stay in Brazil or 10 places to see in Brazil. Know that it's not every time a destination that people are interested in.
2. Bounce Rate
The bounce rate is the percentage of visitors who leave your blog after viewing only one page. Your bounce rate will give you good feedback on the effectiveness of your content. Therefore, you will be able to identify areas of improvement in your content structure to increase the number of pages consulted on your website by a user.
Taking the same example as before, as travel bloggers, you need to be relevant in the content that you propose. There has to be a relation between them. If you talk about your trip to Brazil in an article, you will not talk about how to create a blog post. Maybe your next topic will be another trip or another thing in Brazil. Be creative with it.
3. Average Session Duration
The average length of time visitors spend on your blog is an interesting metric to look up because it gives you the level of engagement and provides you with an overview of popular content that holds visitors' attention. We all know that grabbing the attention of people has become more difficult today, so you need to be interested in your copywriting and correctly manage the length of your article. For example, our interactive Map is a perfect tool to retain people on a specific page and, therefore, increase the average session duration of your visitors. If you want to have your own Map, read more here.
4. Traffic Sources
Traffic sources allow you to analyze where your blog traffic is coming from, such as search engines, social media, or referral websites. This goes beyond your website because it depends on where your traffic is coming from, and you will put your effort into this popular traffic source. Imagine social media is the best one for you; you should create content on your social media that is referring to your blog, or if you have the budget, run ads to get more people to your blog. If it's because of search engines, you should optimize your SEO to be ranked at the highest rank possible.
5. Demographics
Gaining insights into the characteristics of your audience, including age, gender, and location, can be useful for you as a travel blogger. You need to tailor your content and marketing strategies to better resonate with your target demographic.
For example, if your analytics reveal that a significant portion of your audience is in their 20s and enjoys adventure travel, you can focus on creating content that highlights thrilling experiences and budget-friendly travel options for young adults. Also, you can add some expressions specific to your audience's location, therefore you will be able to better resonate with your readers and be closer to them.
6. Conversion Rate
The conversion rate is a crucial metric that tracks the percentage of visitors who take desired actions on your blog, such as clicking on affiliate links or clicking on a pin of our Map. By monitoring the conversion rate, you can assess the effectiveness of your call-to-action strategies and identify areas for improvement. Optimizing your conversion funnel based on this metric can lead to higher engagement and increased conversions, ultimately driving the success of your blog. For example, with LetMeAllez, your conversion goal will be that your visitors click on your affiliate links. If you want to increase your conversion, creating a more engaging call to action will be one solution. Many bloggers just put their affiliate links in their content with no call to action, which is a big problem.
7. Unique Visitors
Tracking the number of unique visitors to your blog allows you to understand the size of your audience and monitor visitor growth over time. This metric provides a clear picture of your blog's reach and popularity. By analyzing trends in unique visitor counts, you can assess the effectiveness of your marketing efforts, content promotion, and audience engagement strategies. Growing your unique visitor count signifies an expanding readership and potential for increased influence within the travel blogging community.
8. Exit Pages
Exit pages are the pages where visitors commonly leave your blog. Identifying these pages is crucial for optimizing user engagement and reducing bounce rates. By understanding the pages that prompt visitors to exit, you can make strategic improvements to encourage them to explore more of your content and prolong their time on your blog. Enhancing the content, user experience, and calls-to-action on these exit pages can help increase user retention and improve overall engagement metrics. For example, if you have a page that has a high exit rate, you can delete it or, for example, remove the affiliate links on this page because it will perform better on another page, but the best solution will be to improve your page and understand what's wrong.
9. Traffic Behavior
It's a set of metrics in Google Analytics that allows you to understand how users navigate through your blog and interact with its content. By analyzing the flow of users between pages, you can gain insight into user behavior, identify popular paths or bottlenecks, and make informed decisions to optimize your site structure and improve the overall user experience.
10. Mobile Traffic
Monitoring the proportion of visitors accessing your blog from mobile devices is vital in today's mobile-first world. With the increasing prevalence of smartphones and tablets, it is crucial to ensure that your blog is optimized for mobile devices. By tracking mobile traffic, you can assess the significance of this user segment and make necessary optimizations to provide a seamless and enjoyable browsing experience. A mobile-optimized blog not only enhances user satisfaction but also positively impacts your search engine rankings, as search engines prioritize mobile-friendly websites.
Conclusion
By tracking these essential metrics in Google Analytics, as a travel blogger, you can gain valuable insights into your audience, content performance, and overall website success. Regularly analyzing these indicators empowers you to make informed decisions, improve your content strategy, and engage your readers more effectively. Start leveraging the power of Google Analytics to take your blogging journey to new heights.
Are you a blogger interested in earning passive income on accommodation links? Check out LetMeAllez by Stay22